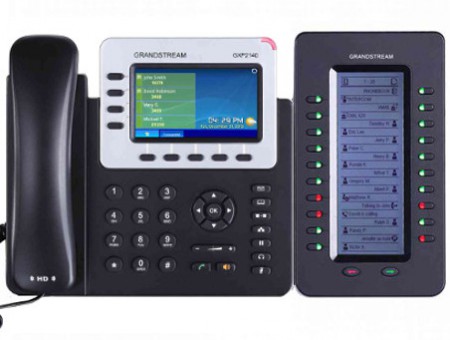 Receptionist pack
Prod. ID: GXP2140+GXP2200EXT
Brand: Grandstream
Main specifications:
Receptionist pack with VoIP phone Grandstream GXP2140 and extensions module GXP EXT2200
It will allow the receptionist handle a higher volume of phone calls thanks to it's 40 extension keys.
BLF extenstions help the receptionist to know by just looking to the keys if a extension is a busy or free and transfer or call them by pressing the key extension directly. Thanks to this call management is much more fluid.
The Grandstream GXP2140 is a VoIP phone for intensive users. You can add up to 4 SIP accounts /phone lines, includes bluetooth for headsets and Gigabit ports.
You can add up to 4 extension modules to this phone.
Grandstream GXP EXT2200 let you configure up to 40 BLF extensions on it.
2 year guarantee
Features Grandstream GXP2140:
4 SIP accounts
5 programmable context sensitive softkeys
Dual-switched auto-sensing 10/100/1000mbps network ports
PoE
11 function keys for: voicemail,phonebook,transfer, conference, hold, headset, mute, call/redial, speakerphone, volume
LCD Color screen 480x272 TFT, 4,3"
Bluetooth V2.1,USB​
Supports EHS compatible Plantronics's headsets
Supports the GXP2200 EXT Module for up to 160 speed dial/BLF contacts
Automated provisioning using TR-069 or AES encrypted XML configuration file
TLS and SRTP security encryption technology
Weather & currency exchange apps
RJ9
Features Grandstream GXP2200EXT:
LCD screen 128x384 pixels
20 programmable dual-color keys
Up to 40 extensions per module (20 per page)
2 page navigation keys
Programmable buttons, BLF (busy lamp field, standard or eventlist), call park/pick-up, speed dial, presence, intercom, and conference/ transfer/forward
Up to 4 modules per phone