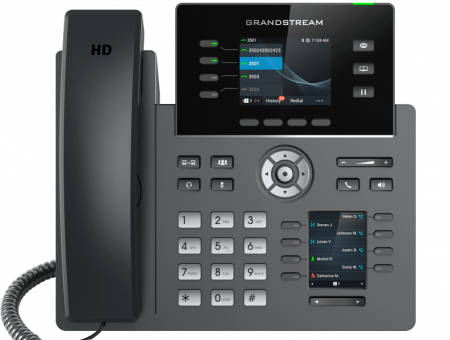 VoIP Phone Grandstream GRP2614
Prod. ID: GRP2614
Brand: Grandstream
Main specifications:
The Grandstream GRP2614 is a high-end VoIP phone that allows you to use up to 40 speed-dial numbers/extensions with busy light field. It's perfect for users who normally call to the same colleagues or people as they can set up their extensions and speed up each phone call. Furthermore, it's also used by professionals who handle lots of phone calls because the double screen makes it easier to transfer phone calls.
This phone is perfect for those who want to increase efficiency and you can even connect it to Internet via WiFi and it has built in Bluetooth to use it with wireless headsets.
2 years guarantee
Grandstream GRP2614
Features:
4 SIP account
8 dual color key
40 digital speed dial/BLF keys
4 XML programmable contextsensitive soft keys
Double screen: Color LCD TFT 2.8 inch (320x240), extra screen 2.4 inch (320x240)
LED on top: incoming calls and notifications
2 ethernet ports
Bluetooth
WIFI
Poe
Multiple conference
Electronic Hook Switch (EHS)
RJ9 headset jack
High sound quality HD
Stand base with 2 position
Wall instalation available
Firmware update by means of FTP/TFTP / HTTP / HTTPS
Strong security system
Delivered with:
Grandstream GRP2614
Handset with cord
Base stand
Universal power supply
Network cable