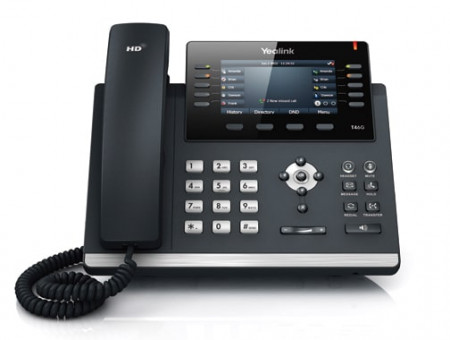 Yealink SIP-T46G
Prod. ID: SIP-T46G
Brand: Yealink
Main specifications:
When you need to speed up call management in your enterprise and need to handle phone calls from different phone numbers you want to use this Yealink SIP-T46G VoIP phone. It features great functionalities combined with an attractive design with its TFT high resolution display. It´s perfect for busy professionals like you.
This VoIP phone supports Gigabit Ethernet and you can connect multiple devices, like USB or wireless headsets. You will even have Bluetooth in this phone to make it easier to connect wireless devices such as wireless headsets to free yourself and gain mobility.
You can configure up to 16 VoIP accounts simultaneously in this phone in order to be able to handle different phone lines from a single device. This will improve user productivity and will make call management much easier.
It´s compatible with the expansion module EXP40. This module features 40 fully programmable keys, which is very interesting if you want to speed up you work.
Main Features:
Yealink Optima HD voice
Dual-port Gigabit Ethernet
4.3" 480 x 272-pixel color display with backlight
Built-in a USB port, support
Bluetooth headset (Through
USB Dongle)
Up to 16 SIP accounts
PoE(802.3af) class support
Headset, EHS support
Supports expansion modules
Call hold, mute, DND
One-touch speed dial, hotline
Call forward, call waiting, call transfer
Redial, call return, auto answer
3-way conferencing
Ring tone selection/import/delete
Local phonebook up to 1000 entries
Black list
Busy Lamp Field (BLF)
Bridged Line Apperance(BLA)
Anonymous call, anonymous call rejection
Call park, call pickup
Music on hold
Call recording
10 line keys with LED programmable up to 27 various
features (3-page view)
7 features keys: message, headset, hold, mute,
Hands-free speakerphone
Download Product Sheet