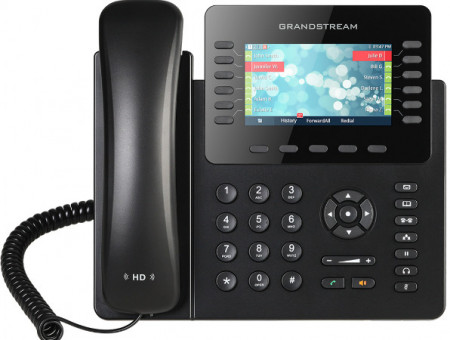 VoIP Phone Grandstream GXP2170
Main specifications:
The Grandstream GXP2170 VoIP phone is perfect for user who handle a high volumes of incoming phone calls and diverts them to the right users.
It's 48 BLF/speed dial keys simplifies the process and makes it much faster than with regular VoIP phones. Thanks to these keys users will be able to call and divert phone calls to other user by just pressing them instead of having to lose time looking for the right phone extension and dialing it.
Main features of Grandstream GXP2170 VoIP phone:
12 line dual color keys
48 BLF/speed dial keys
5 programable context sensitive keys
Gigabit
PoE
​Bluetooth
Compatible with Plantronics headsets
Compatible with Grandstream Affinity CTI
​Plug&Play: we send it to you already configured with your Telsome details
2 year guarantee
Características:
SIP Protocol
​12 line keys con hasta 6 cuentas de SIP
5 XML programmable contextsensitive soft keys
11 dedicated function keys for : message(with LED indicator), phonebook, transfer, conference, hold, headset, mute, send/redial, speakerphone, volL+, vol-
TFT color LCD
RJ9 headset jack (allowing EHS with Plantronics headsets)
downloadable phonebook(XML, LDAP, up to 2000 items)
Audio Full HD
Allows up to 4 GXP2200EXT modules
​Gigabit
PoE
​Bluetooth
Compatible with Grandstream Affinity CTI