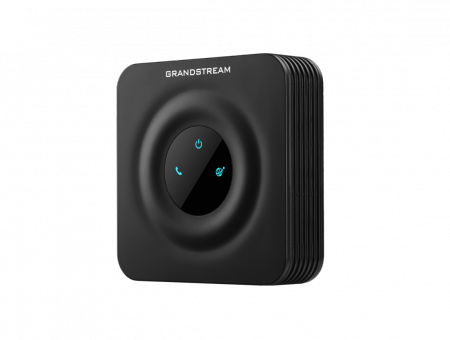 VoIP Adaptader Grandstream ATA HT801
Prod. ID: 801
Brand: Grandstream
32.98 €
Includes configuration and technical assistance
VAT not included
Buy
Main specifications:
The VoIP ATA Grandstream HT801 adapter is the most economic and easy way to use VoIP telephony at home with your current analogue phones.
This Grandstream HT801 is the subsitute of the old Grandstream HT701 and allows home users to connect one analogue phone to use it with VoIP. This adapter converts traditional signal into VoIP to allow you to use your phone over Internet.
If you have several wireless phones connected to the same base station you can connect the base station to the Grandstream HT801 and use all of them with VoIP telephony.

We configure it for you
Once you receive your adapter you won´t have to worry about configuring it. We configure it for you so that you just have to connect it to start using it: plug&play
Features:
1 FXS analog telephone port, 10/100 Mbps port
Advanced telephony features include caller ID, call waiting
Supports up to 1 SIP account
Status LED for power, internet, LINK/ACT and phone status
3-way voice conference, transfer, forward, do not disturb, message indicator, multi-language voice prompts, T.38 fax, flexible dial plan and more

Interfaces:
1 FXS port (RJ-11) for the conection of a conventional analog phone.
Network port 10/100 Mbps (RJ-45).
Status LED's for adapter, internet, Telephone and line status.
Posterior reset button.

Voz, fax and modem:
1 line, 1 SIP account and 3 way conference.
Telephone functions: caller ID with blocking, call on hold, double line, Blind, Forward, HOLD, do not disturb.
Fax over IP: Compatible with protocol T.38 for Fax up to 14.4 kbps.
Voice codecs: G.711 with Annex I (PLC) and Annex II (VAD/CNG), G.723.1, G.729A/B, G.726, iLBC, dynamic jitter buffer, exo line cancellation.

Management and Security:
Failover in case the main SIP server loses conection it switches automatically to a secondary server.
Compatible with SYSLOG, Telnet and remote management using web browser.
Security SRTP, TLS, SIPS, HTTPS.
QoS on layer 3 (ToS, Di Serv, MPLS).

Package Content :
Grandstream HT801
Network Wire
AC connector
User's Guide


Physical and Electrical Characteristics:
Supported temperature range: 0°C up to 40°C./ 32° up to 140°F
Power supply: 5.0 Vcd, 1.0 A
Dimensions: 100 x 100 x 29.5 mm.
Weight: 102 g.