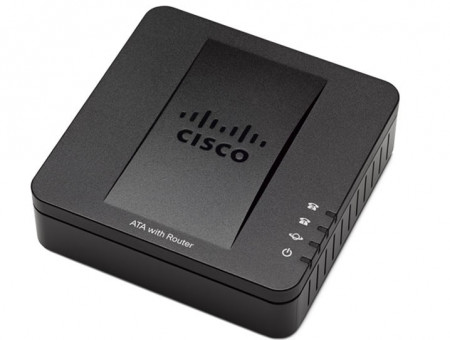 Adapter Cisco Spa112
Prod. ID: Spa112
Brand: Cisco
Main specifications:
This adapter Cisco Spa112 is the easiest and more affordable choice to start with VoIP telephony. Thanks to this adapter you can convert a normal analog phone into a VoIP phone. You will just have to plug it to your phone and router to start using VoIP telephony.
You probably have at least an analog phone in your office or at home. Keep using it with this adapter Cisco Spa11 instead of putting it away in a drawer. You connect it to the adapter and it converts it to a VoIP phone to enjoy the great prices of this new technology.
You can convert up to 2 analog phones into VoIP phones with one adapter.
We send you the adapter already configured with your Telsome account details so that you don´t have to worry about anything. Plugandplay.
Producers official web site: : Official documentation.
Ring voltage: 40-90 Vpk configurable Ring frequency: 20-25 Hz Ring waveform: trapezoidal Maximum ringer load: 5 ringer equivalence numbers (RENs) On-hook voltage (tip and ring): -46 to -56V Off-hook current: 18-25 mA Terminating impedance: 600 ohm resistive or 270 ohm + 750 ohm 150 nF complex impedance Frequency response: 300-3400 Hz Return loss (600 ohm, 300-3400 Hz): up to 20 dB Insertion loss (1 Vrms at 1 kHz): 3-4 dB Total harmonic distortion (THD) (350 mV peak at 300 Hz): up to 3% Idle channel noise: 72 dB (typical) Longitudinal balance: 55 dB (typical) Off-hook threshold (line seizure): Rdc < 1000 ohm On-hook threshold (line release): Rdc >10000 ohm Rdc DC supervisory range: Rdc > 450 ohm
Specifications
Description
Subscriber line interface circuit (SLIC)
Regulatory compliance
FCC (Part 15 Class B), CE, ICES-003, A-Tick certification, Restriction of Hazardous Substances (RoHS), and UL
Power supply

DC input voltage: 5V DC at 2.0A maximum

Power consumption: 5W

Switching type (100-240V) automatic

Power adapter: 100-240V and 50-60 Hz (26-34 VA) AC input, with 1.8m cord

Indicator lights and LEDs
Phone 1, phone 2, Internet, and power
Documentation

Quick Start Guide

Administration Guide (available online)

Provisioning Guide (available online)



Environmental

Dimensions (W x H x D)
3.98 x 3.98 x 1.10 in. (101 x 101 x 28 mm)
Unit weight
5,40 oz (153 g)
Operating temperature
32 to 113ºF (0 to 45ºC)
Storage temperature
-77 to 158ºF (-25 to 70ºC)
Operating humidity
10 to 90% noncondensing
Storage humidity
10 to 90% noncondensing
Package Contents

Cisco SPA112 2 Port Phone Adapter

5V/2A power adapter

6-ft (1.83m) Ethernet cable

Quick Start Guide

CD with documentation, including license and warranty

Product Warranty
1-year limited hardware warranty with return-to-factory replacement and 90-day limited software warranty