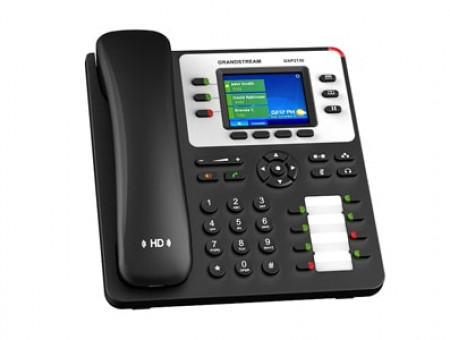 VoIP Phone Grandstream GXP2130 v2
Prod. ID: GXP2130 v2
Brand: Grandstream
Main specifications:
The Grandstream GXP2130 v2 VoIP phone has been designed for users who need to make phone calls selecting which number to show on each call by just pressing one key. Thanks to it's 3 SIP account support this phone allows you to select which phone number to use each time.
3 SIP accounts
8 BLF keys
4 configurable keys
Bluetooth
Compatible with Plantronics headsets
Call forward, hold, mute, 3 way conference, re-dial
​2 Gigabit ports with integrated PoE
Compatible with Grandstream Affinity CTI
This VoIP phone Grandstream GXP2130 v2 is perfect for environments where you need to make phone calls from different phone numbers and call forwarding it's used on daily basis. Thanks to it's 8 BLF keys you will be able to call and transfer call to 8 colleagues by just pressing a key.
2 year guarantee
FEATURES:
3 SIP accounts with 3 line keys
Dual Gigabit Ethernet ports with integrated PoE
​2.8 inch (320x240) TFT color LCD
Bluethooth
8 speed-dial/BLF extension keys with dual-color LED
4 programmable context sensitive softkeys
​11 dedicated function keys for: MESSAGE (with LED indicator), PHONEBOOK, TRANSFER,
CONFERENCE, HOLD, HEADSET, MUTE, SEND/REDIAL, SPEAKERPHONE,
VOL+, VOL
Hold, transfer, forward, 4-way audio conference, call park, call pickup, shared-call-appearance (SCA)/bridged-line-appearance (BLA), downloadable phonebook (XML, LDAP, up to 2000 items), call waiting, call log (up to 500 records), customization of screen, off-hook auto dial, auto answer, click-to-dial, flexible dial plan, hot desking, personalized music ringtones and music on hold, server redundancy and fail-over
RJ9 headset jack
Weather, currency, news, XML
HD audio
Compatible with Grandstream Affinity CTI
COMES WITH
Grandstream GXP2130
Handset
Base stand
Universal power supply