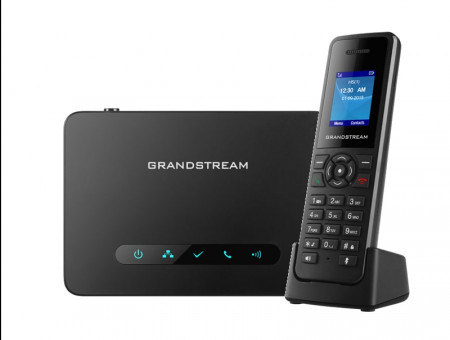 Grandstream DP720 with dock station
Prod. ID: Grandstream DP720 with dock station
Brand: Grandstream
Main specifications:
This cordless VoIP phone Grandstream DP720 is perfect for users who are looking for freedom of movement as you will be able to walk and move while talking on the phone. If offers a range of 300 meters on outdoors and 50 meters on indoor.
This Grandstream DP720 is an easy to use phone that includes everything and enterprise user needs: call hold, transfer, 3 way conference...
This product includes both the handset Grandstream DP720 and the Grandstream DP750 Dock station, which supports up to 5 devices.
Plug&Play: we send it already configured with your Telsome details
Features:
Up to 10 SIP account per handset
Full HD Audio
Reducción de ruido ambiental
Hold, transfer, forward, 3-way conference, call park, call pickup, downloadable phonebook,
call waiting, call log, auto answer, click-to-dial, flexible dial plan, music on hold
3-color MWI LED
Comes with:
Handset Grandstream DP720
​Dock station Grandstream DP750 (PoE)
Power supplies