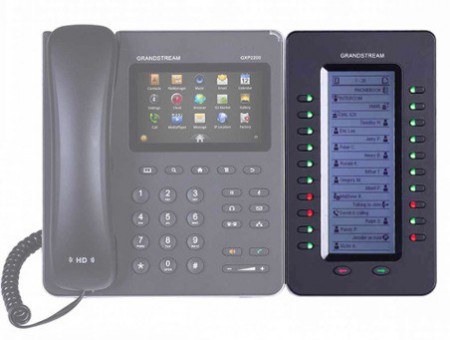 Expansion Module Grandstream GXP2200EXT
Prod. ID: GXP2200EXT
Brand: Grandstream
119.00 €
Includes configuration and technical assistance
VAT not included
Buy
Main specifications:
Contact expansion module for recepcionists and users who handle a high volumen of phone calls and call transfers. It helps users call and transfer phone calls, making the work easier and faster and making them more productive.
Compatible with VoIP Phones: Grandstream GXP220, GXP2140 ,GXP2170 y GXV3240
Up to 40 contacts per expansion module. 2 pages with 20 contacts on each one.
Check at a glance if the contact is busy or free thanks to the dual color BLF: red-green.
You can add up to 4 expansion modules per VoIP phone.
2 year guarantee
LCD screen 128x384 pixels
20 programmable dual-color keys
Up to 40 extensions per module (20 per page)
2 page navigation keys
Programmable buttons, BLF (busy lamp field, standard or eventlist), call park/pick-up, speed dial, presence, intercom, and conference/ transfer/forward
Up to 4 modules per phone