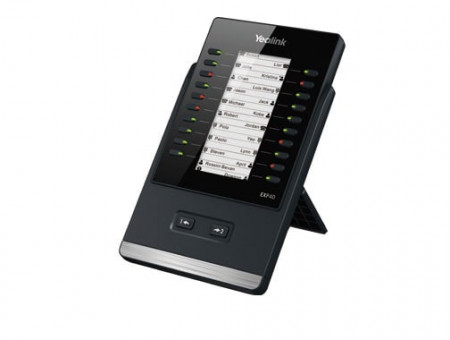 Yealink EXP40
Prod. ID: EXP40
Brand: Yealink
129.00 €
Includes configuration and technical assistance
VAT not included
Buy
Main specifications:
When you need to add more functionalities to your Yealink SIP-T46G, T46S and SIP-T48G & T46S phone to speed up your call management and make this side of your job easier, you may want to have this Yealink EXP40 expansion module.
This expansion module adds up to 40 programmable keys to you VoIP phone. It features an LCD screen with 20 physical keys with dual color leds (green-red). Each key has different functionalities depending on the page of the screen you are in. It also has 2 independent control keys to switch from one page to the other.
You can program each key with up to 40 different features such as call transfer, call forward, speed dialing, conference, etc.
Featured features
20 physical keys each with a dual-color LED
20 additional keys through page switch
2 independent control keys are used for fast switch pages
LCD Backlight
Two page views are possible
Different icons for each function shown on the LCD
Programmable for Shared Line, BLF List, BroadSoft Group, Call Park, Conference, Forward, Group pickup Group listening, LDAP, Pick UP, XML Browser, Zero-SP-Touch......
Download Product sheet