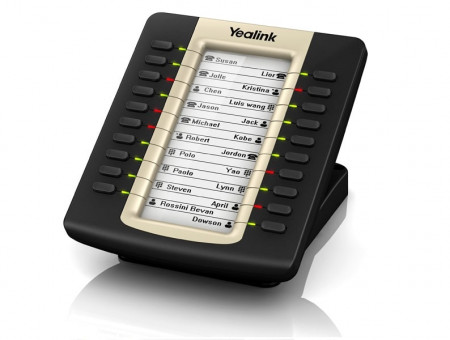 Yealink EXP39
Prod. ID: EXP39
Brand: Yealink
Main specifications:
This advanced VoIP expansion module is designed for receptionists and anyone who handles lots of phone calls. It allows them to speed call management up thanks to its 20 programmable keys.
It features an LCD screen to show which function each key has to make operations much easier and faster. Furthermore, each key has 2 statusled lights (green and red) to show if the line is busy or available. You can also switch the screen to add 20 additional programmable keys. It works with advanced Yealink VoIP phones: SIP-T29G, T28P, T27P and T26P. You can even chain 6 units up to add more functionalities.
Main features:
Graphic LCD screen
20 physical programmable keys
20 additional keys through page switch
Possibility to chain 6 modules up
Dual color status led
Programmable for: Call transfer, speed, call pickup, hold, voicemail, forward, DND, etc.
Download Product datasheet.