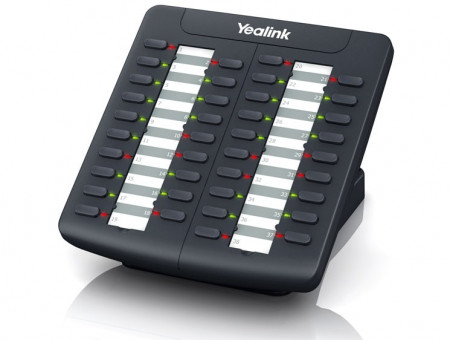 Yealink EXP38
Prod. ID: EXP38
Brand: Yealink
Main specifications:
If you need to manage lots of phone calls and make call diverts and transfers all the time, this expansion module for Yealink VoIP phones will make your life much easier. Besides helping you in your job, you will save a lot of time in call management thanks to the 38 keys fully programmable.
You will be able to transfer and divert calls by just pressing one key. You will even be able to see at a glance if a phone line is available. This 2 features really speed the work up, avoiding losing phone calls and keeping customers waiting for a long time.
Each key has its own dual led (green and red) to allow you to see if the colleague you have to transfer the call to is or not busy. When the red light is flashing, the phone line is ringing. If it´s red, it´s busy. And when it´s green is available. This way if someone calls asking for your superior, you can see if he is available or not at a glance, speeding up your work and improving it.
This expansion module is compatible with Yealink SIP-T28P y Yealink SIP-T26P VoIP phones. It´s perfect for receptionists, administrative assistants and anyone who need to manage lots of phone calls.
You can chained up to 6 expansion modules, creating up to 228 keys.
More info about this VoIP module extension.
Main features:
38 programmable keys
Line status dual-color LED
Daisy-chain 6 modules: 228 programmable keys
Supports Busy Lamp Field(BLF), Bridge Line Appearance(BLA)
Programmable for speed dialing, call pickup, Intercom,hold, transfer, voicemail, forward, DND... Powered by the host phone
Download product datasheet.