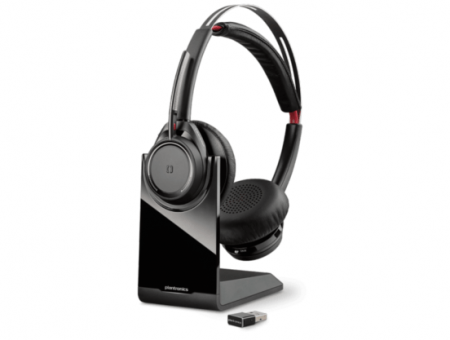 Plantronics Voyager Focus UC B825
Prod. ID: Plantronics Voyager Focus UC B825
Brand: Plantronics
Main specifications:
Plantronics Voyager Focus UC B825 professional headsets with built-in bluetooth: the best headset to aisle yourself from the surrounding noises to improve concentration, to listen to music and to talk on the phone with freedom of movement.
These headset allow you to control phone calls in an intuitive way: you can answer and hang up by pressing the side of the headset, silence the microphone by just taking it off, and turn up and down the volume. Everything you need on phone calls.
Sound quality for music is amazing and transitions from music to phone calls to music are extremely fluid: while listening to music you wil listen to a sound indicator if you are receiving a phone call. When you answer it, the music pauses. If you put the phone call on hold you will listen to your music until you get back to te call. Once you hang up you song will be played from where you last left it.
Features:
Headset.
Bluetooth v4.1 & USB Connectivity
Dongle USB Bluetooth.
Confort leatherette ear cushions
Up to 30 meters range.
12 hours talk time
Light indicators.
USB adapter
Active Noise Cancelling Technology
Package Content:
Headset
Base station
Dongle USB